Safe and easy way to fight tough fatty areas and tighten skin.
✓ Sculpts & Tightens Skin
✓ Smooths Cellulite, Stretch Mark, Sagging Skin
✓ Melts Away Stubborn Fat
✓ Quick & Long-Lasting Results
✓ For Any Area of the Body
KICK START YOUR WEIGHT LOSS OR CELLULITE REMOVING JOURNEY
This handheld cavitation machine uses various unique technologies to help you tighten loose skin and lose fat along the way.
Get your skin refined while slimming down the targeted zones for a tighter, firmer, and more youthful body without going through painful sessions of running up and down the hill.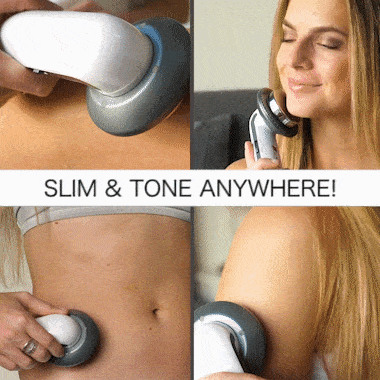 1 DEVICE, 3 TECHNOLOGIES
Ultrasonic Cavitation - Breaks down fat cells & promotes fat metabolism.
Infrared Light Therapy - Tightens the skin & relieves chronic pain.
EMS (Electrical Muscle Stimulation) - Stimulates & tones muscles, improves blood circulation.
HOW DOES IT WORK?
Our massager probe is clinically proven to perform a safe heating reaction incorporate with the powerful ultrasonic speed.

It vibrates at 1,000,000 times per second that instantly activates your skin cell membranes and accelerates metabolism to effectively eliminate any undesirable tissue waste and thus, results in a slender body result.
GUARANTEED RESULTS IN AS LITTLE AS 2 WEEKS!
Experience visibly less cellulite, reduced body circumference and a firmer body, from the comfort of your own home!
To get started, simply apply a thin, even layer of gel, cream or lotion over the treatment area. 

Plugin the device and switch it on by pressing the mode button. Select the function and massage your body part using the massage head.

Clean any remaining gel that may have been left on the device and the skin.

The Ultrasonic Fat & Cellulite burner has been designed to deliver noticeable results within 2 weeks with only 20 minutes a day targeting fatty areas.

1 x EMS Body Slimming Massager (Main Unit)
1 x Pair of EMS Gloves
1 x Pair of Goggles
1 x Power Adapter
4 x Electrode Pads (2 Pairs)
1 x 2-Way Electrode Wire
1 x User Manual

Your Ultrasonic Cavitation Machine will be packaged and shipped within 3 days of ordering. After your order is processed you should receive your tracking information right away.

Deliveries take on average 3 - 14 business days.